Young Person's Volunteering Programme: Charlotte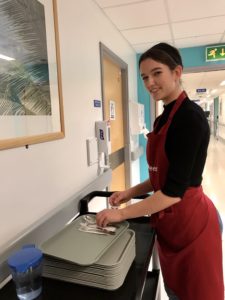 Our evidence shows that volunteering improves communication skills and confidence and facilitates personal challenge and growth. The opportunity to volunteer is also seen as beneficial by Higher Education providers; although not all of the young people participating are seeking future careers in the health sector. More details about the programme are available here.
Charlotte is currently studying for her 'A' levels and volunteers after college once a week. She explains:
'I took on this role due to my aspirations to become a medical professional.  Volunteering has been invaluable for me, not only in the development of my communication skills, but also in growning my understanding of what it means to work on a hospital ward, and the co-dependence between the staff.  Across my 100 hours, I have grown so much in confidence, volunteering was a fantastic decision for me.'
Could you help?
Our volunteers make a real difference to patients and staff.
Volunteering opportunities
Exciting volunteering roles available now.