Young Person's Volunteering Programme: Charlotte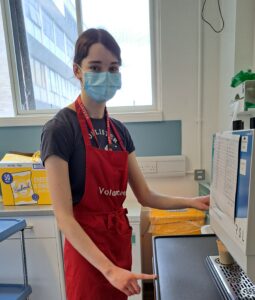 Our evidence shows that volunteering improves communication skills and confidence and facilitates personal challenge and growth. The opportunity to volunteer is also seen as beneficial by Higher Education providers; although not all of the young people participating are seeking future careers in the health sector. More details about the programme are available here.
Bethany completed the programme while studying for her A levels.  She explains:
"I first started volunteering with Addenbrookes as part of the Young Persons Programme, after which I became a ward volunteer.  I also help out by mentoring new volunteers when they first start on their wards.  Getting to chat to new people is a highlight of my week, and I love hearing the different stories patients have to tell! The opportunity to experience a hospital setting and find out how best to talk to patients has helped me pursue my aspirational career as a medical professional, but no matter what your chosen career, you can still learn great communication and teamwork skills by volunteering at Addenbrookes.
It's amazing the difference just a couple of hours of your time can make to the experience of patients in hospital; a chat and a cup of tea can really brighten their day!"
Could you help?
Our volunteers make a real difference to patients and staff.
Volunteering opportunities
Exciting volunteering roles available now.