Profile: Owen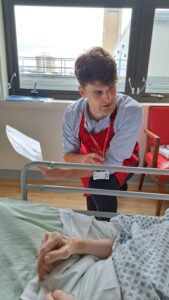 Each day offers new experiences and an opportunity to make a tangible difference to someone's well-being. Notably, the 'dementia champion' role enables us to make a meaningful difference to patients and their families, whose needs are often overlooked by society. The volunteering service at the Cambridge University Hospitals provides an excellent work environment by continually offering opportunities to equip you with relevant training and always providing a helping hand to ensure that you never feel alone.
As a PhD student researching ageing diseases such as those in dementias, I have found this opportunity profoundly insightful as it offers context as to how these conditions may manifest in individuals and why research is necessary to combat these illnesses. For me, the highlight of this role is seeing how meaningful my small contribution may be, especially reflected in the smile on the patients' faces.
Could you help?
Our volunteers make a real difference to patients and staff.
Volunteering opportunities
Exciting volunteering roles available now.