The young person's volunteering programme (16-18)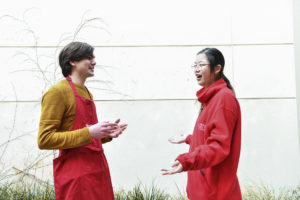 YPP volunteers are allocated to the wards, where they help out with the evening meal, providing assistance and encouragement for our frailer patients (COVID-19 dependent).   YPP volunteers can engage with patients who are lonely, isolated or anxious with the opportunity to communicate. This can take the form of:
A conversation
An activity (such as a quiz or game)
These interactions are simple but can make a great difference to patients, to whom the day in hospital can seem long and dreary. A listening ear, a friendly smile and a kind word are sometimes the things that matter most.
If you have an interest in investigating a career in the NHS, you can gain valuable insight into life on the wards. The programme can help you to develop your communication skills and confidence as you move through the duration of the programme. Volunteering in a hospital is also frequently seen as beneficial by Higher Education establishments.
The programme
The volunteering duty is two hours per week dependent on the COVID-19 situation; 16.30-18.30, Monday-Friday. Successful applicants will be allocated a specific day during a week.
YPP volunteers are required to attend for the duration of the programme unless illness or other agreed absence prevents attendance.
Weekly online healthcare awareness sessions are conducted over Zoom including talks from Occupational Therapists, Dementia Specialist Nurse, Dietitian, and Radiographers.
All volunteers are supported throughout the programme by Voluntary Services Department staff.
At the end of the programme volunteers will receive certificates and a reference. There may be opportunities for continued volunteering for graduates of the programme and these will be outlined towards the end of the programme.
Comments from Young Volunteers (after 30 hours of volunteering ward experience):
"There will be some aspects that will surprise you but you learn a lot and I feel it is a very valuable experience"
"It is very rewarding, you meet a great bunch of people volunteering. It can be challenging, so pay attention in the induction!"
Feedback from Healthcare Awareness sessions:
"Just wanted to firstly say thank you for the running of the YPP programme. I really enjoyed myself and learnt many new things which will definitely help me for the future" 
"Thank you for providing this course, it's been an experience that was filled with learning the trust and how NHS works."
Autumn 2022 Cohort – Monday 3 October – 9 December 2022
Applications:  Currently open, close 9 May 2022
Interviews:  Wednesday 15/22 June 2022.    If shortlisted you will be invited to attend an online Zoom interview.
If successful and offered a place on the Young Person's Programme, you will need to complete mandatory training and an e-induction.
NB:  people under the age of 18 cannot spend more than a total of 40 hours per week in school/college, paid work and volunteering.
As a volunteer, the right to work within the UK is still needed and as part of our recruitment process the relevant documents will be checked.  You need to give this consideration before applying.
Could you help?
Our volunteers make a real difference to patients and staff.
Volunteering opportunities
Exciting volunteering roles available now.