Discharge Lounge volunteer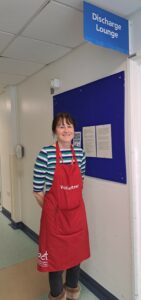 Providing social interaction in the form of conversation, activity packs or iPads, Discharge Lounge volunteers help patients pass the time before they are able to leave the hospital.   After training and under direction from the nursing team, volunteers collect patients from wards and take them to the Discharge Lounge and collect TTOs from inpatient pharmacy.
Discharge Lounge volunteers are confident communicators, tactful listeners, keen observers, and emotionally resilient.
Times: Various
Uniform: Red volunteer apron
Could you help?
Our volunteers make a real difference to patients and staff.
Volunteering opportunities
Exciting volunteering roles available now.