Ward visitor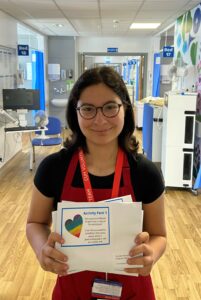 You'll meet a wide range of people as you move from ward to ward, interacting with individual patients. Often people just want someone to talk to, but you might be involved in playing a game or reading a book or magazine with a patient, shopping for small items from the concourse, or taking a patient to one of the garden spaces on site. Visitors also give out activity packs to help patients to pass the time. Good communication skills, confidence and adaptability are important.
Times: 14.00 – 16.00
Uniform: Apron or red volunteer polo shirt
Could you help?
Our volunteers make a real difference to patients and staff.
Volunteering opportunities
Exciting volunteering roles available now.