Profile: Nick and Jack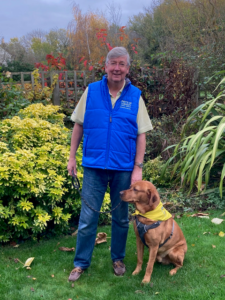 And a patient answered, 'He wags his tail and looks friendly, then his handler has a nice chat with you!' Our PAT dogs are registered with Pets As Therapy, have passed a stringent temperament test and have an up to date certificate of registration.
Volunteer owner/handler Nick says: 'While we have visited the wards our normal routine involves visit to the outpatients. This is ideal for Jack as he loves meeting as many new people as possible. He generally does a quick circulation and then seems to be able to focus in on those patients, friends or family who seem in most need of attention from a very loving dog! Attending outpatients can be a very stressful experience but when Jack enters the waiting area you can see how everyone perks up, starts to relax and begin chatting about their own experiences with their pets. Often when we leave you can see that the conversations between those who were strangers, wrapped up in their own worlds a few moments ago, continue and the atmosphere is changed.
Jack loves the whole experience, from putting on his 'uniform', in his case his PAT bandana and volunteer's badge, the walk through the hospital to start his 'rounds' to the treats he gets from the staff in the clinics. What do I get out of volunteering? Well, apart from seeing the pleasure Jack gets, it is immensely satisfying and rewarding to see the reactions of patients, their families and friends and the staff of Addenbrookes to having Jack visit.
If you have a suitable dog and are interested in the scheme, please contact Pets As Therapy to register your dog before applying to volunteer. Details can be found on page xx of this booklet. Thank you!
Could you help?
Our volunteers make a real difference to patients and staff.
Volunteering opportunities
Exciting volunteering roles available now.