Profile: Ann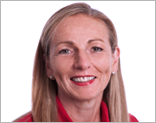 I found I still yearn to be somehow part of a local health care service. While considering a return pathway or just being involved, I have valued the opportunity to experience the workplace and appreciate it from an entirely different perspective. I have found that most people are immensely grateful and always enthusiastic to share that gratitude especially when they learn that the work is entirely unpaid. In fact the concept of working unpaid is alien to some of the population, yet the rewards are incredibly satisfying. I also recognise that it is not an experience that is possible for everyone, given the financial constraints of daily living.
I am immensely proud to be part of volunteering at Cambridge University Hospitals. The experience of the local client population of being cared for is absolutely enhanced by the contribution of volunteers to our hospital.  I feel I am in some little way contributing to the successful delivery of a service which we simply would find it difficult to live without. It has been said that the NHS runs on goodwill. I think where volunteers are concerned this is certainly true.
Could you help?
Our volunteers make a real difference to patients and staff.
Volunteering opportunities
Exciting volunteering roles available now.