Inpatient survey volunteer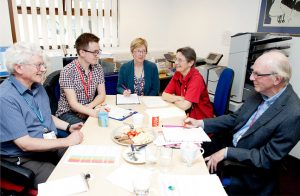 Our team of Survey volunteers help this to happen, as they visit patients due to be discharged from hospital and ask them to complete our friends and family survey. Each ward has its own iPad for this purpose and our volunteers liaise with ward staff so they know which patients to assist. The iPad is very simple to use and full training is given, so don't let technology put you off! We're looking for people who are keen to help us improve our services and who enjoy meeting a wide variety of people.
Times: 10:00 – 12:00
Uniform: Red volunteer polo shirt
Could you help?
Our volunteers make a real difference to patients and staff.
Volunteering opportunities
Exciting volunteering roles available now.