Changing Faces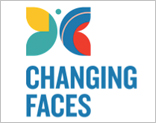 We offer one to one support, run the national Skin Camouflage Service, and campaign for change.
Contact:
Tel: 0300 012 0275 or 020 7391 9270
Email: support@changingfaces.org.uk
Web: www.changingfaces.org.uk
Facebook: @changingfacesuk
Twitter: @faceequality
Could you help?
Our volunteers make a real difference to patients and staff.
Volunteering opportunities
Exciting volunteering roles available now.